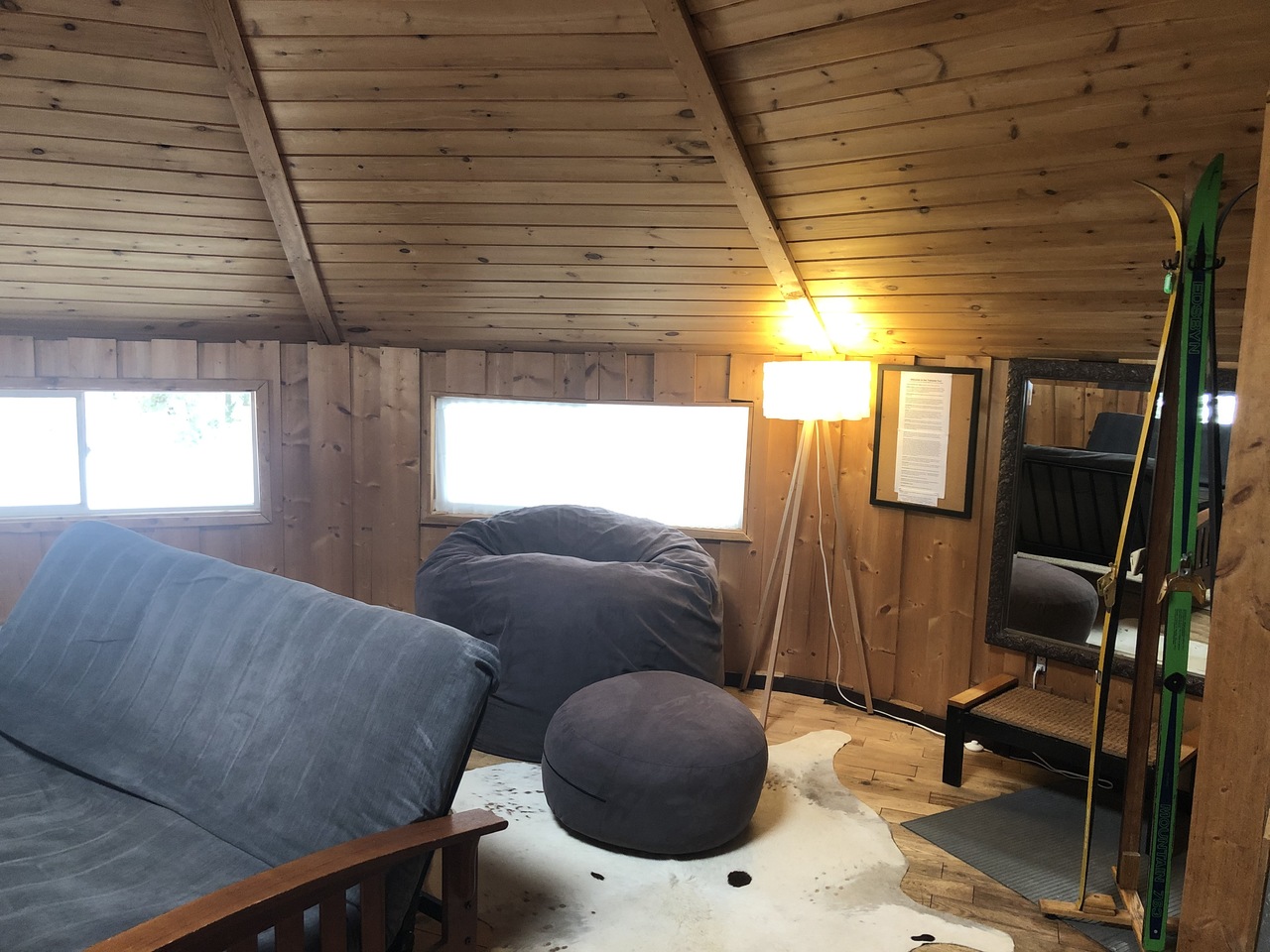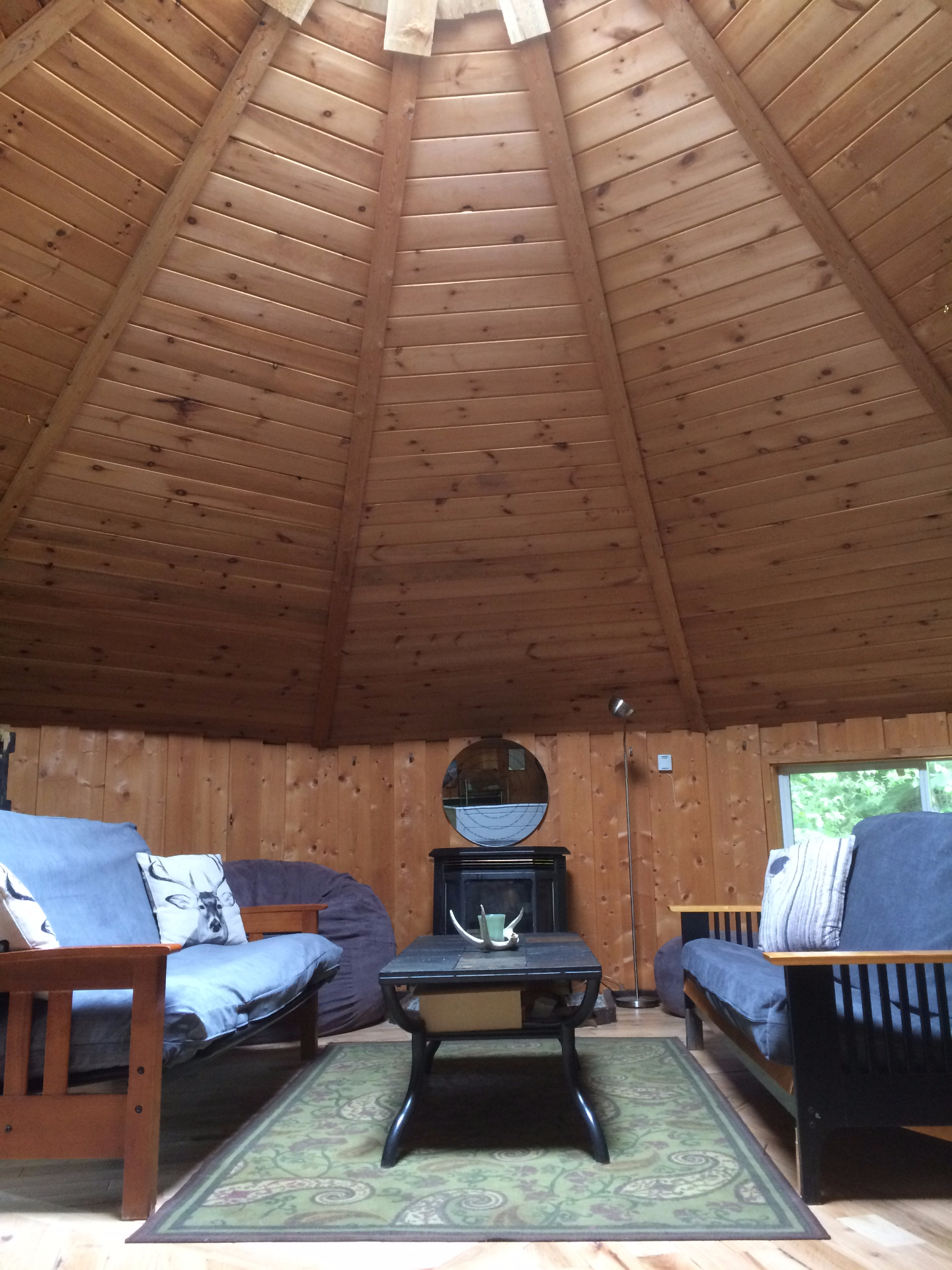 The largest of the camping yurts can sleep up to six people, consisting of one fully made queen size bed and two futon couches.
Bedding is only provided for the queen bed, so extra bedding will need to be brought with those sleeping on futons.
Trailside has electricity and is heated by a wood pellet stove. Extra bags of pellets are provided for guests if needed.
With a skylight roof top and five windows there is plenty of natural light. Additional lighting of a hanging dining lamp, a tripod standing lamp and string lights give an amber glow in the evening. A limited amount of tea lights with votives are provided for extra ambience.
There are little areas within this one room yurt, a bedroom, a reading space with a bean bag chair, living room in front of the pellet stove, dining area as well as a tiny kitchen area. As all the cooking is done outdoors (each yurt has its own two burner propane cook stove). The kitchen consists of all basic eating and cooking utensils, a crock pot, an electric kettle as well as a sink that empties into a bucket that requires emptying in the far-off bush. In the outdoor communal kitchen there is a Propane BBQ, a Charcoal Grill as well as a Wood Burning Pizza Oven.
Well water in a blue jug is provided for cooking and cleaning. Also provided are dish soap, dish towels, wash cloth, green pot scrubber, hand sanitizer, matches and toilet paper.
Outside, there is a picnic table as well as a fire pit. Guests are to bring along their own camp fire wood as we do not provide it. Wood can generally be bought at gas stations or you can collect deadfall in the forest to help keep our area clean as well as provide with an evening fire.
Each accommodation has their own outhouse right nearby.
The wood fired Sauna is a short walk up the hill so bring along a couple of towels (one to sit on is recommended), a house coat, non breakable water bottle and fire starter bricks (no liquid fire starter) to make starting a fire easier. We have added a soapy spray bottle to spray the sauna bench prior to using as well as one disinfectant wipe to wipe down the sauna surfaces that may be used prior to your usage of it. There is a sign up sheet available to allow groups of two only access to the sauna.
We have 20 km of trails outside your door which you can explore all year round on skis, snowshoes, on foot or on your bike. Take advantage of our complimentary canoe or paddle board in the warm months. It is always a favourite of guests to bring along something to float on during the summer.
During the winter months Club Minaki Nordic Skiing maintains a groomed classic ski trail. Only the Red Turtle Trail is for hiking or snowshoeing as we ask not to go on groomed ski trails. We do our best to keep an ice rink maintained during the winter months as well.
This is a pet friendly yurt as it is roomy and many pets enjoy being able to see out the lower windows. If you have more than one pet, this yurt is your best option.
This also the best option for kids as it is our roomiest of the camping yurts.
Cost: $150/night for two people only
$50/person/night for any additional guests
$25/night for kids under 12
$15/night/pet fee
13% HST added
Available year round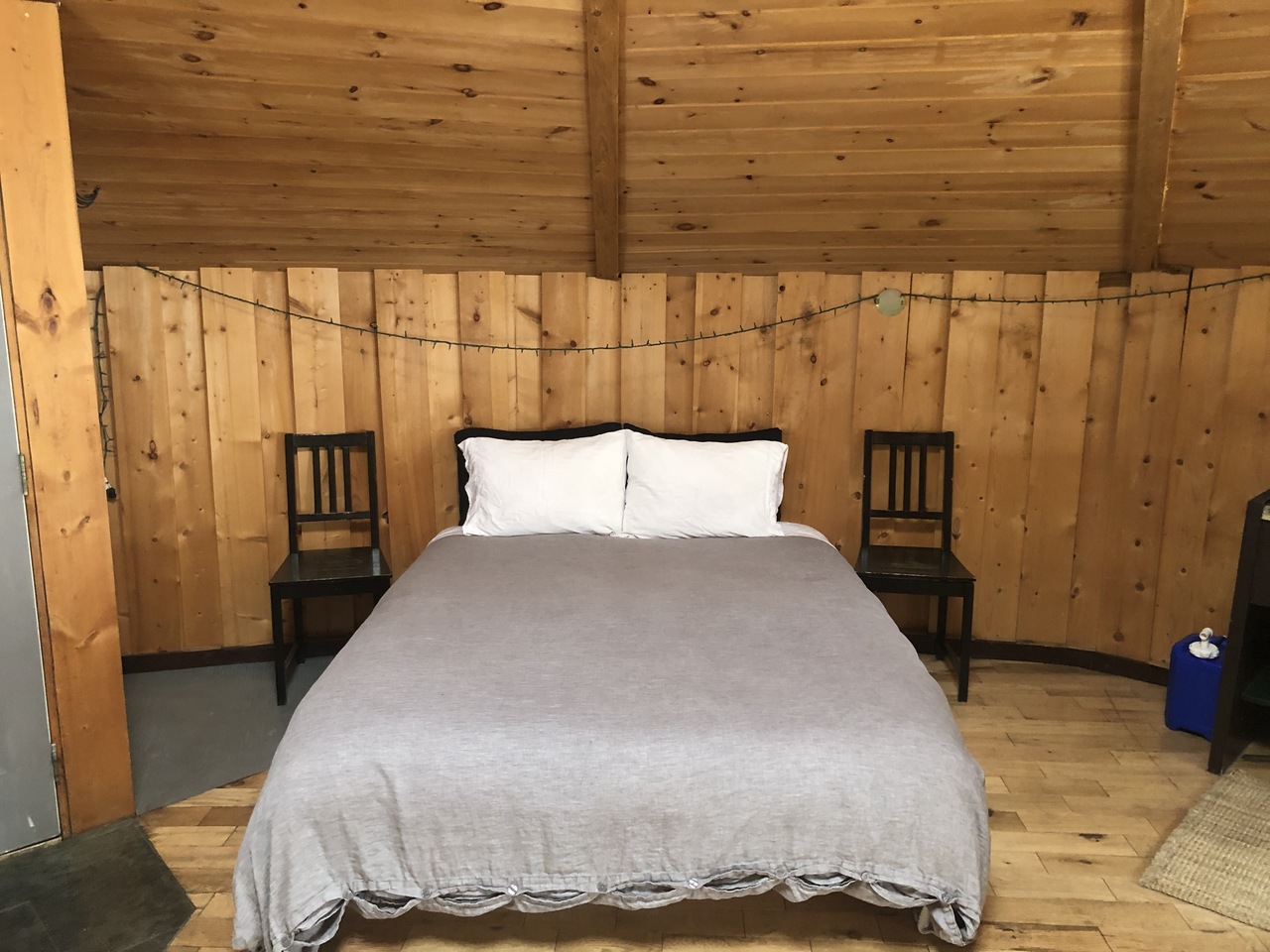 We require a 3 night minimum stay on advance bookings
We will accept 2 night stays within 2 months of booking
A 50% non refundable deposit is required upon booking.
We do not accept credit cards, payments can be made by e-transfer .
Check in time is 4pm and check out time is 11am.
Pets are welcome, there is a $15/night plus HST fee.