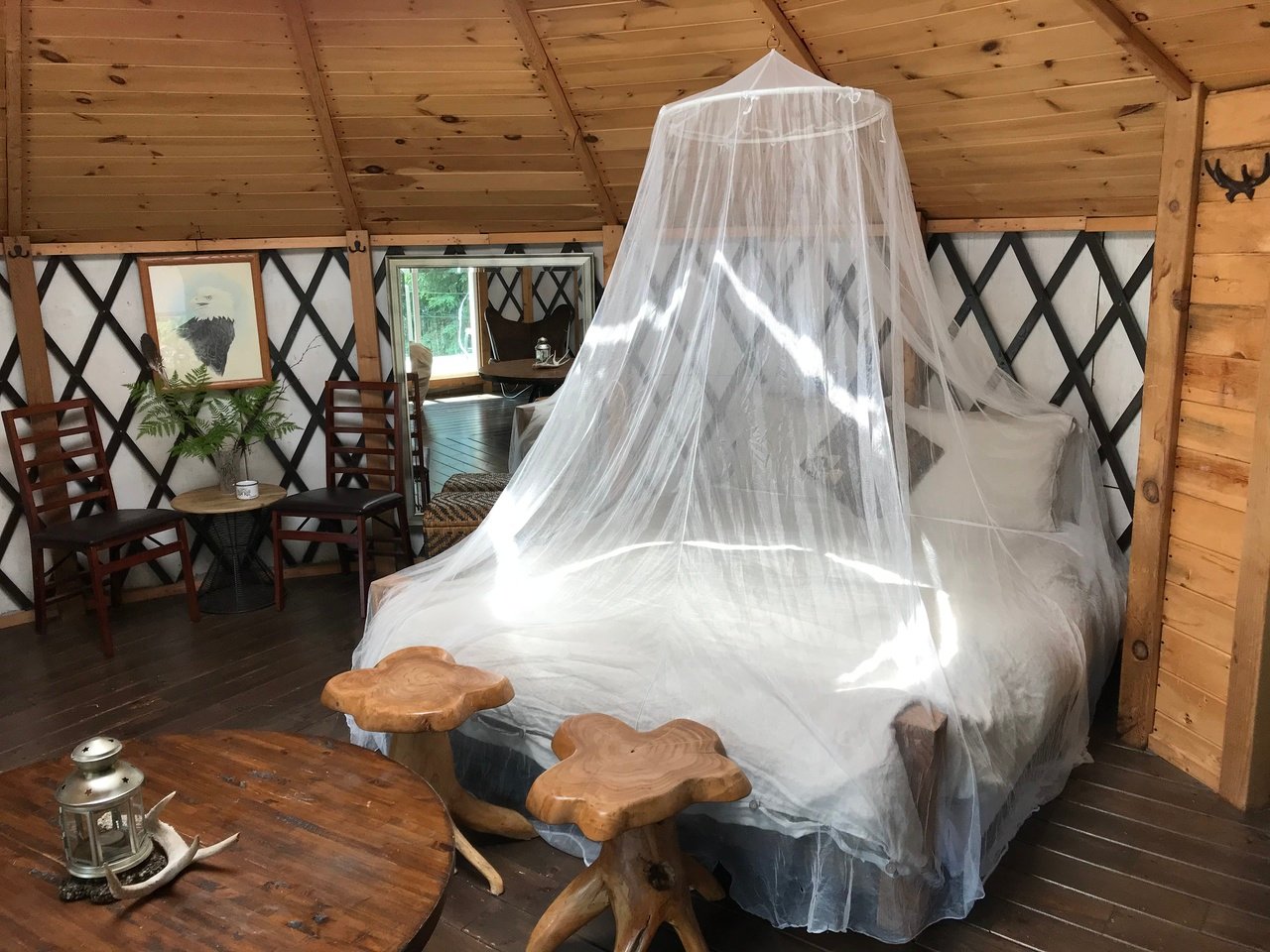 Fireside sleeps two comfortably in a fully made queen size bed with bamboo or flannel sheets and a fine linen duvet cover.
A small kitchen includes all dishes, utensils, pots & pans for outdoor cooking on a two burner propane stove. There is also an outdoor communal BBQ, Wood Fired Pizza Oven and Charcoal Kamado Grill. There is one solar light which has limited power to use as needed. Votives or lanterns with a few tea lights are also provided. It is best to bring along headlamps or other light sources if you require more light. There is a dining table inside that converts to a coffee table as well as a couple of chairs and stools. If it is nice, you can also dine outdoors on the picnic table.
Heat is provided by a wood stove. Firewood and matches and limited paper are supplied for your indoor fire only. The fire is started prior to your arrival to warm the yurt up. For outdoor campfires we ask you bring your own wood or search for deadfall in the forest.
Well water is supplied for both drinking, cooking and cleaning in blue jugs. Also provided are dish towels, dish cloth, pot scrub, dish soap, hand sanitizer, soapy water spray for the sauna bench, and one disinfectant wipe for sauna surfaces.
The wood fire sauna is a short walk up the hill so bring along a couple of towels (one to sit on is recommended), a housecoat, non breakable water bottle and fire starter bricks (no liquid fire starter) to make starting a fire easier. There is a sign up sheet to book your time for only two for one inclusive visit in the sauna.
Fireside has a spacious deck that overlooks the little lake and high rock cliffs. A small yurt outhouse is also at the back of the deck for your use only. Toilet paper is provided.
We have 20 km of trails outside your door which you can explore all year round on skis, snowshoes, on foot on on your bike. Take advantage of our complimentary canoe or paddle board in the warmer months. It is always a favourite of guests to bring along something to float on during the summer. During the winter months Club Minaki Nordic Skiing maintains a groomed classic ski trail. Only the Red Turtle Trail is for hiking or snowshoeing as we ask not to go on groomed ski trails. We do our best to keep an ice rink maintained during the winter months as well.
This is a pet friendly yurt with three large windows for pets to look out of. Please bring along your pets own bed for sleeping.
Cost: $150.00/night plus HST for up to 2 people
Available May thru October
We require a 3 night minimum stay on advance bookings,
We would accept 2 night stay within 2 months of booking.
A 50% non refundable deposit is required upon booking.
We do not accept credit cards, payments can be made by e-transfer.
Check in time is 4pm and check out time is 11am.
Pets are welcome, there is a $15/night plus HST fee.